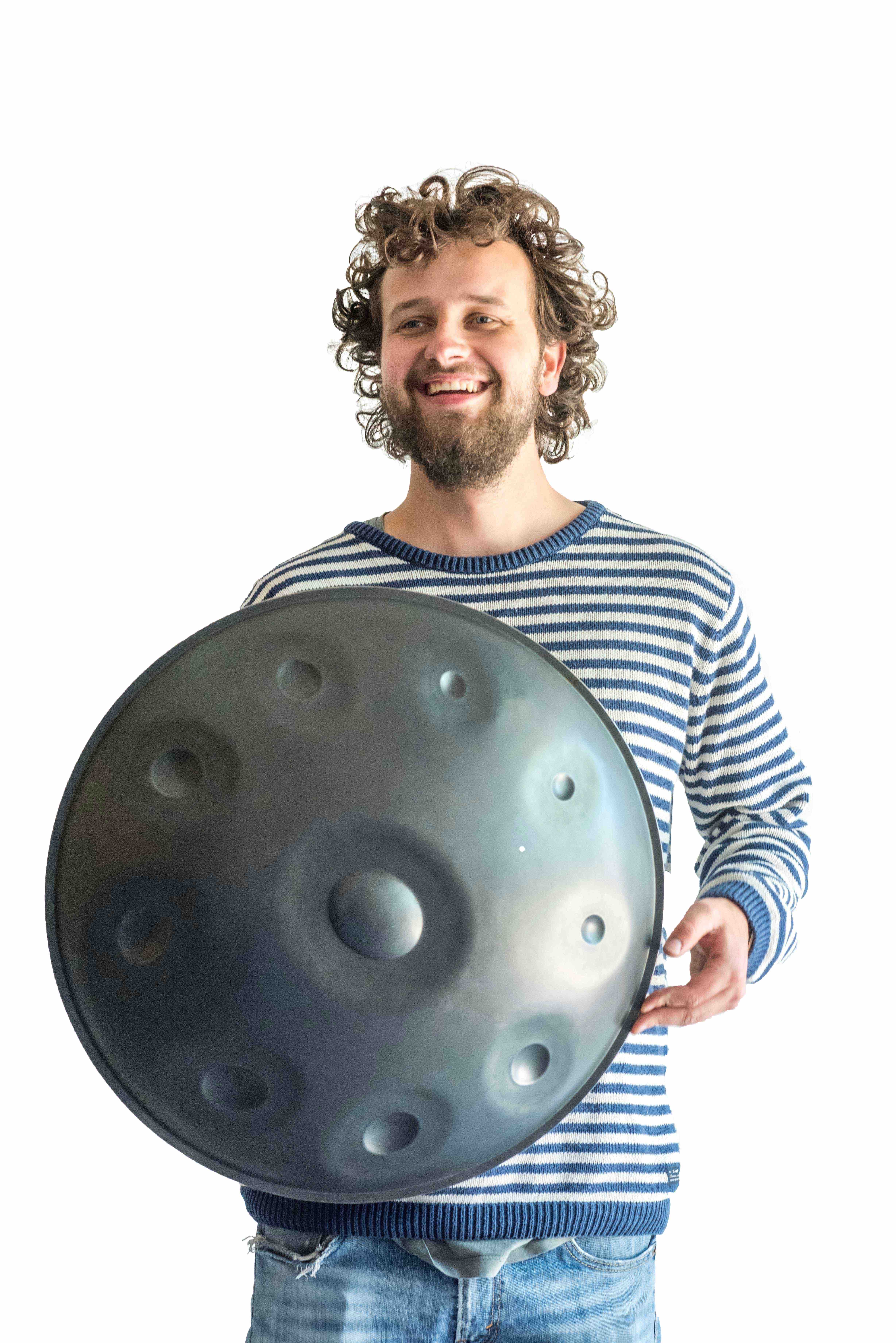 My name is Jan Borren, I was born in Amsterdam in 1994 and I have lived in this great city my whole life.
My attention has been pulled in many different directions since I was young, with the following interests all turning into obsessions at some point: taking things apart, snails, bones, fossils, wheel caps, lighters, mopeds, graffiti, spud guns, weed plants, watches, metal detecting and of course the handpan. As I grew older some of these obsessions became more serious in nature.
The Beginning
In 2012 a friend and I were visiting Paris. We were walking through a small alley when we heard a sound that was new to both of us. We decided to walk towards the sound and we saw someone sitting on the ground playing handpan. Never had I heard and seen anything like that instrument, it was magical. From that moment on, I was hooked, it became a dream for me to be able to create music just like the person in the alley.
For a couple of months after that first encounter, I was searching on the internet, trying to figure out how to obtain a similar instrument. It quickly became clear that these items weren't easy to get your hands on. People who were making good quality instruments were often impossible to get in contact with and the prices on the second hand market were sometimes over ten times the original price.
At a certain moment there was a first generation Panart hang for sale on Marktplaats (Holland's version of eBay) for a relatively good price. I asked my father if he could loan me the money as I was studying and couldn't afford it on my own. After a bit of thinking he declined but said, "why don't you try and make one?". Even back in 2012, there were plenty of topics on
handpan.org where people were documenting their attempts at making a handpan. I had read most of them and knew that building a handpan was way out of my league. After telling my father it wouldn't be possible for me to make one myself, he laid down a challenge for me by saying, "I'll give you 500,- euro which you can spend on tools and steel, but you have to try it". My mother overheard our conversation and supported this idea by offering another 500,-. It is because of them I gave building handpans a try.
Here you can see the topic I started on handpan.org if you are interested in what I was doing in my early days:
http://www.handpan.org/forum/viewtopic.php?f=23&t=8427&hilit=johnny+raw
After roughly a year I had managed to create a handpan which produced a sound that was satisfying to me. At this moment my study wasn't interesting enough to keep me from working on the steel sheets and I decided to quit school.
Nowadays
Things have really taken shape six years on from my first encounter in Paris. I've set up my own workspace in the most creative and (in my opinion), interesting part of Amsterdam.
My goal now is to keep improving my instruments by experimenting with different techniques and different kinds of steel. Whilst doing this I'll be selling the instruments I make, both in person and via this website. I also plan on producing a few note combinations (scales) on a more frequent basis, so that more instruments will be available for you to purchase.
Other Interests
When I am not making handpans, I spend a lot of my spare time restoring and repairing mechanical watches. The movements are pieces of art in my eyes and it is a delight to make one tick again after it has been sitting in a drawer for a century. Thankfully, these activities afford me plenty of free time to spend with friends and family, something which is very important to me.